All students receive breakfast and lunch for free. However, we do need to charge a nominal fee for staff or adult meals, and for additional meals requested by a student. Simply visit EZSchoolPay.com to register for an account to pay online. 
Welcome to the Bobcat Cafe: Nourishing Minds, Fueling Success
At Sonora Elementary School, we prioritize providing nutritious meals to fuel the minds and bodies of our students. Our Food Services team is dedicated to offering delicious and wholesome meals that support their overall health and well-being. From carefully planned menus that provide various options to accommodate different dietary needs to promoting healthy eating habits and nutrition education, we strive to create a positive dining experience for our students. We also offer a Free and Reduced Lunch program to ensure all students have access to nourishing meals.
Breakfast & Lunch Programs
Our Food Service Manager, Shanan Gonzales, goes above and beyond to provide students with delicious and exciting food options while still adhering to State and Federal nutritional guidelines. Mrs. Gonzales and her team create themed menus with a diverse range of ingredients, allowing students to experiment with different cultures and flavors.
While traditional favorites like applesauce pancakes and deli sandwiches are always available, Mrs. Gonzales also incorporates new and exciting dishes such as chicken gyro, corn chowder, and stir fry. To make mealtime even more enjoyable, the cafeteria staff includes trivia questions, riddles, stickers, and quick games for the students to play.
Mrs. Gonzales prioritizes fresh ideas, creating fun and tasty meals, and taking students on a culinary journey through different cuisines, all while staying within the guidelines. The students love trying new foods, which is evident by their enjoyment of unique items like Star Fruit from Florida and persimmons.
The food service staff is equally dedicated to providing delicious and interesting meals, with each member contributing their own talents. Mrs. Gonzales values input from everyone on her team, which allows for even more creative menu options.
If you're curious about the mouth-watering dishes on offer, check out our monthly Breakfast and Lunch menus.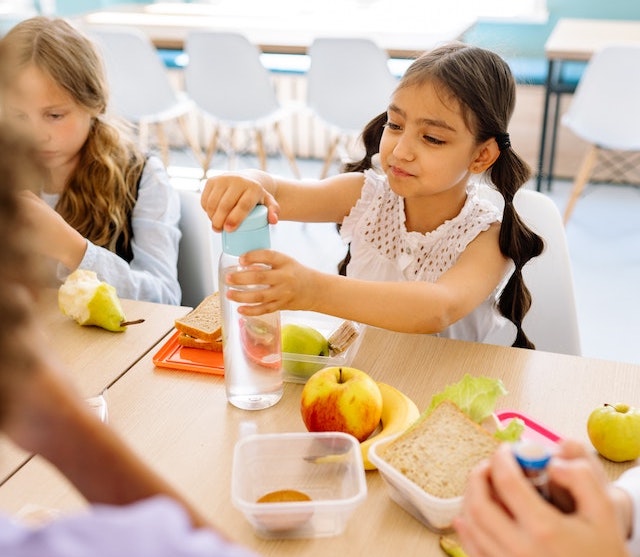 Universal Meals Program
California continued implementation of the Universal Meals Program for the 2023-24 school year, which makes free breakfast and lunch available to all students. This program builds upon the foundations of the federal National School Lunch Program (NSLP) and School Breakfast Program (SBP), and it brings forth a wealth of benefits for our entire school community.
Household Meal Application
If meals are already free, why complete the application?
Completing the Household Meal Application makes it possible to receive additional benefits for your student and your family, and it also supports our school community as a whole. Take a look at the possibilities.
Benefits for the School:
The information collected from the application helps us secure funding, allocate resources, and provide enhanced services that support the needs of our students and families.
The more applications that are submitted from our community, the more potential there is for Sonora Elementary to receive support. So whether or not you need the benefits or qualify for them, your effort to complete the application will contribute to the success of our cafeteria and our school community overall.
Additional Benefits for Your Family:
Lower or No Cost Internet Access: Through the FCC Emergency Broadcast Benefit, your family may qualify for lower or no-cost Internet access, enabling connectivity and supporting learning.
Pandemic-EBT Benefits: Eligibility for future Pandemic-EBT benefits may provide annual meal assistance of up to $300 for each of your child(ren), offering valuable support.
Possible Child Care Discounts: Depending on your circumstances, you may be eligible for child care discounts, lightening the financial load of quality child care services.
Utility Discounts: Certain locations offer utility discounts to eligible families, helping to manage household expenses.
Affordable Connectivity Program: Households may apply for the Federal Communications Commission (FCC) Affordable Connectivity Program via GetInternet.gov or can call 877-384-2575. Households applying directly through the ACP website may need to show documentation proving their current participation in the NSLP and SBP if their eligibility cannot be confirmed with other personal identifying information. This may include presenting the household's school meals approval letter or other current official documentation.
The process of completing the meal application is quick, confidential, and straightforward. If you have any questions or require guidance throughout the application process, our dedicated staff is here to assist you. Together, let's seize the opportunities that lie ahead, supporting your family's well-being and ensuring access to essential resources.
Household Meal Application - English
Solicitud de comida gratis o reducida
State of California Universal Meals
Summer Food Service Program
USDA Nondiscrimination Statement
In accordance with federal civil rights law and U.S. Department of Agriculture (USDA) civil rights regulations and policies, this institution is prohibited from discriminating on the basis of race, color, national origin, sex (including gender identity and sexual orientation), disability, age, or reprisal or retaliation for prior civil rights activity.
Program information may be made available in languages other than English. Persons with disabilities who require alternative means of communication to obtain program information (e.g., Braille, large print, audiotape, American Sign Language), should contact the responsible state or local agency that administers the program or USDA's TARGET Center at (202) 720-2600 (voice and TTY) or contact USDA through the Federal Relay Service at (800) 877-8339.
To file a program discrimination complaint, a Complainant should complete a Form AD-3027, USDA Program Discrimination Complaint Form, which can be obtained online at: https://www.usda.gov/sites/default/files/documents/ad-3027.pdf, from any USDA office, by calling (866) 632-9992, or by writing a letter addressed to USDA. The letter must contain the complainant's name, address, telephone number, and a written description of the alleged discriminatory action in sufficient detail to inform the Assistant Secretary for Civil Rights (ASCR) about the nature and date of an alleged civil rights violation. The completed AD-3027 form or letter must be submitted to USDA by:
mail:
  U.S. Department of Agriculture
  Office of the Assistant Secretary for Civil Rights
  1400 Independence Avenue, SW
  Washington, D.C. 20250-9410; or
fax: (833) 256-1665 or (202) 690-7442; or
email: Program.Intake@usda.gov